Z Series Agriculture Drone
Introducing the brand new agricultural spraying drone, Z Series with advanced integration of software and hardware to provide the best solutions for precision farming.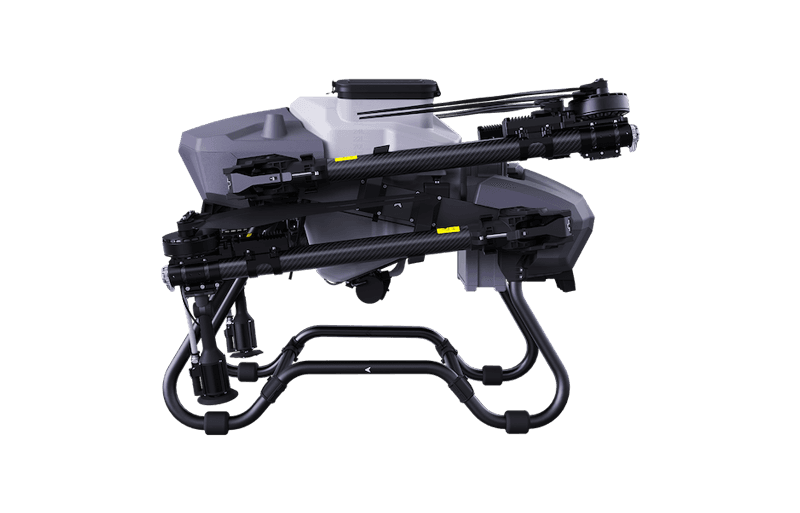 Beyond the limit
Enjoy the intelligent and smooth ultimate experience with Z series agriculture drone solution. 30kg and 50kg two load models, with newly upgraded high-strength truss structure, wireless integrated flight control, large-flow impeller pumps and water-cooled centrifugal nozzles. The aircraft is deep integration of software and hardwares.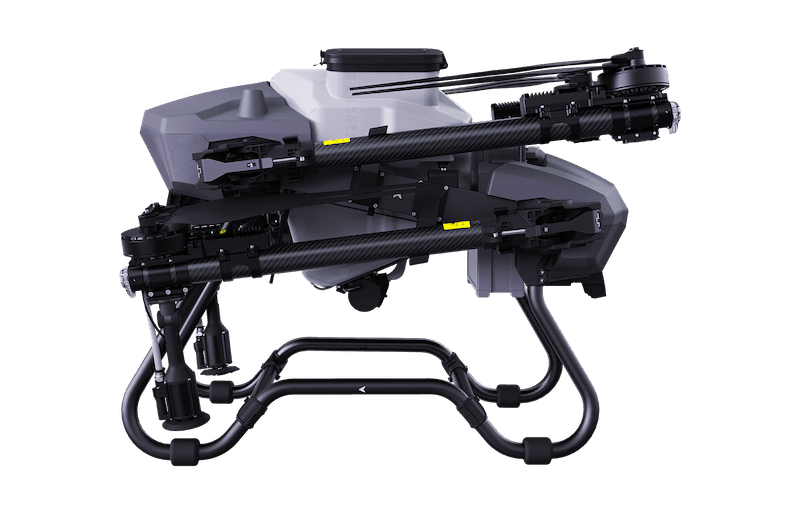 Z30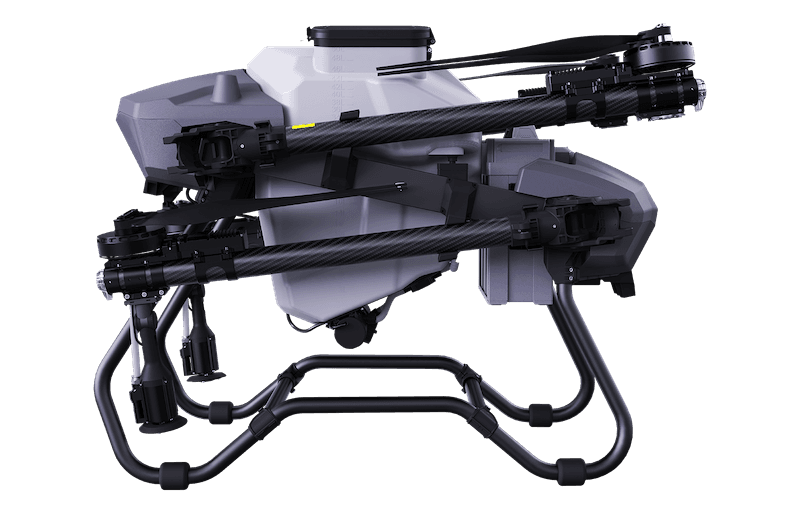 Z50

Integrated flight control

IntelliSense & Feedback

Water-cooled centrifugal nozzle
High-efficiency spreading

IP67 Immersion waterproof

Large flow double impeller pump
Innovative Structure
Pursuing Excellence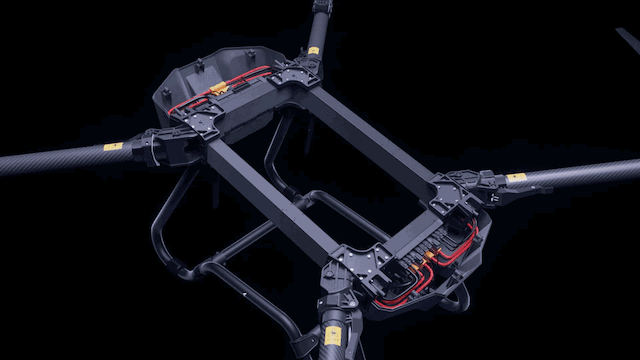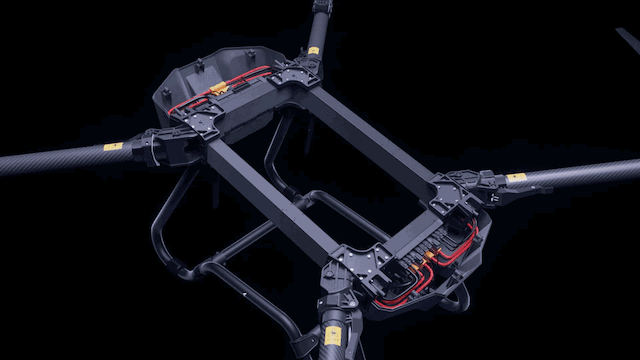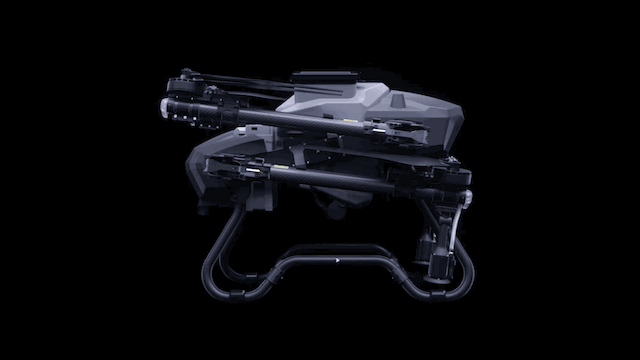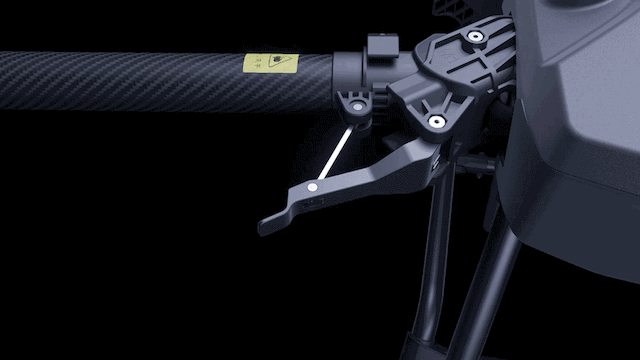 Truss Structure
Double structural strength and durability
Z-Type Folding
Minish folding size for easy transportation
Press-Locking Handle
Intelligent locking sensors and sturdy buckle for operational convenience
Interactive Design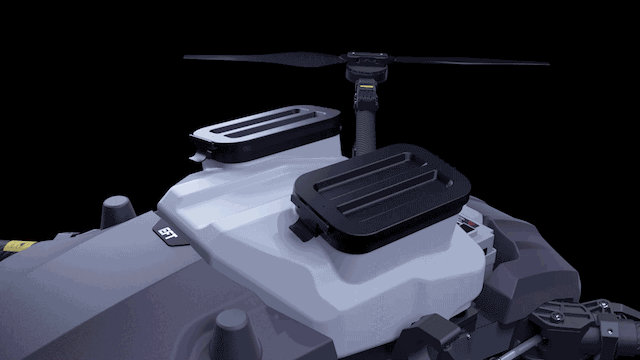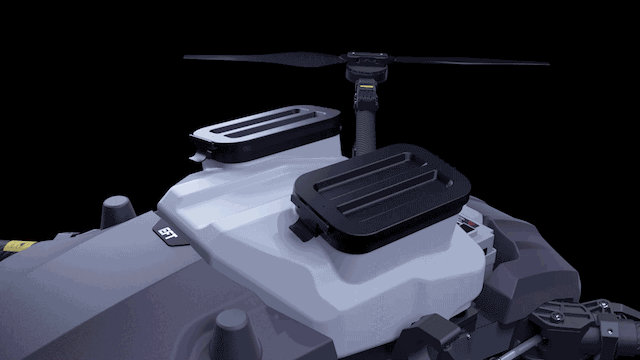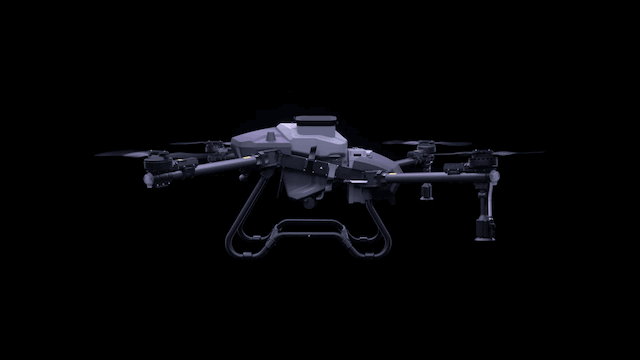 Double Clamshell Inlets
Large dual inlets for easier pouring
Tool Free Housing
Simple built-in buckle for quick disassembly
Higher Front, Lower Tail
Reduced wind resistance and easier battery replacement
Fully Interconnected
Enhanced Performance
Ultrasonic Flow Meter
Sensors are separated from liquid to reduce corrosion
Precise Weighing Module
Real-time monitoring, avoids overloading
Smart Feedback Module
Constant status detection, early warning of faults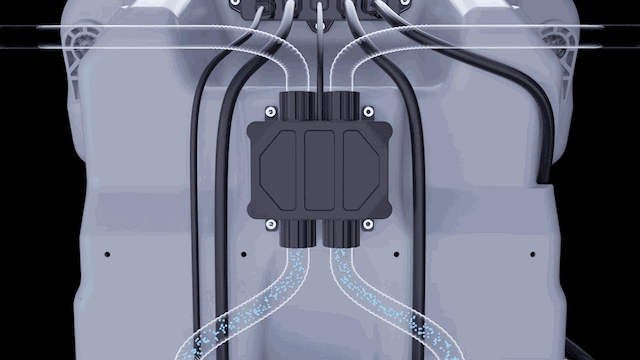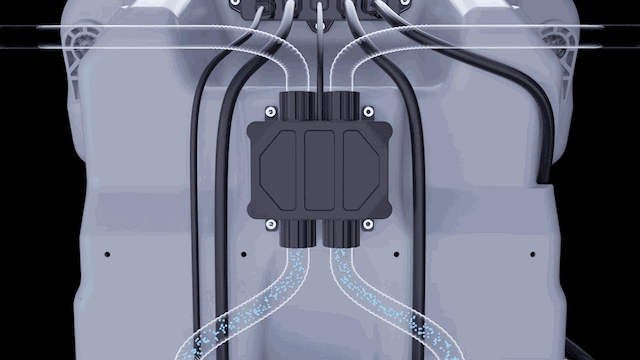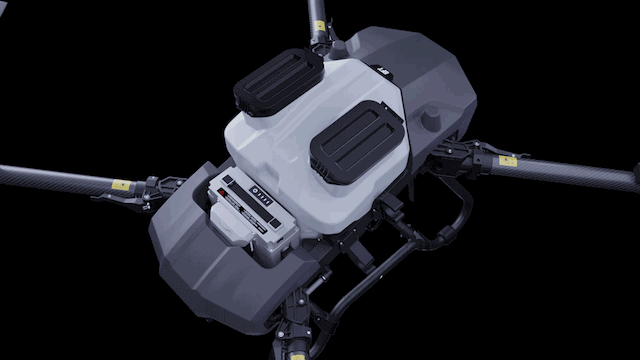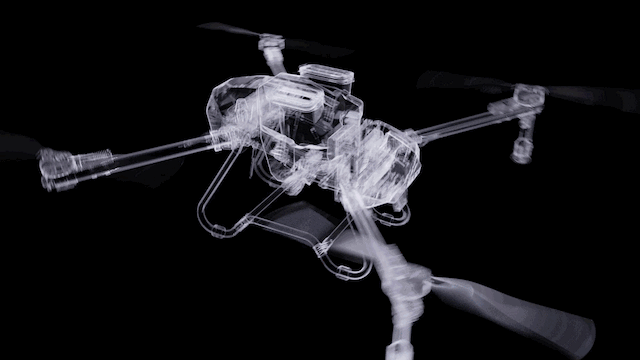 Integrated flight control
Enjoy wireless connection
Designed for quick installation, with no need for wiring or debugging.
Optimize arrangement
Upgrade waterproofing
Deeply optimized wire layout, orderliness and easy to repair, optimizing plug with waterproof terminal, more reliable performance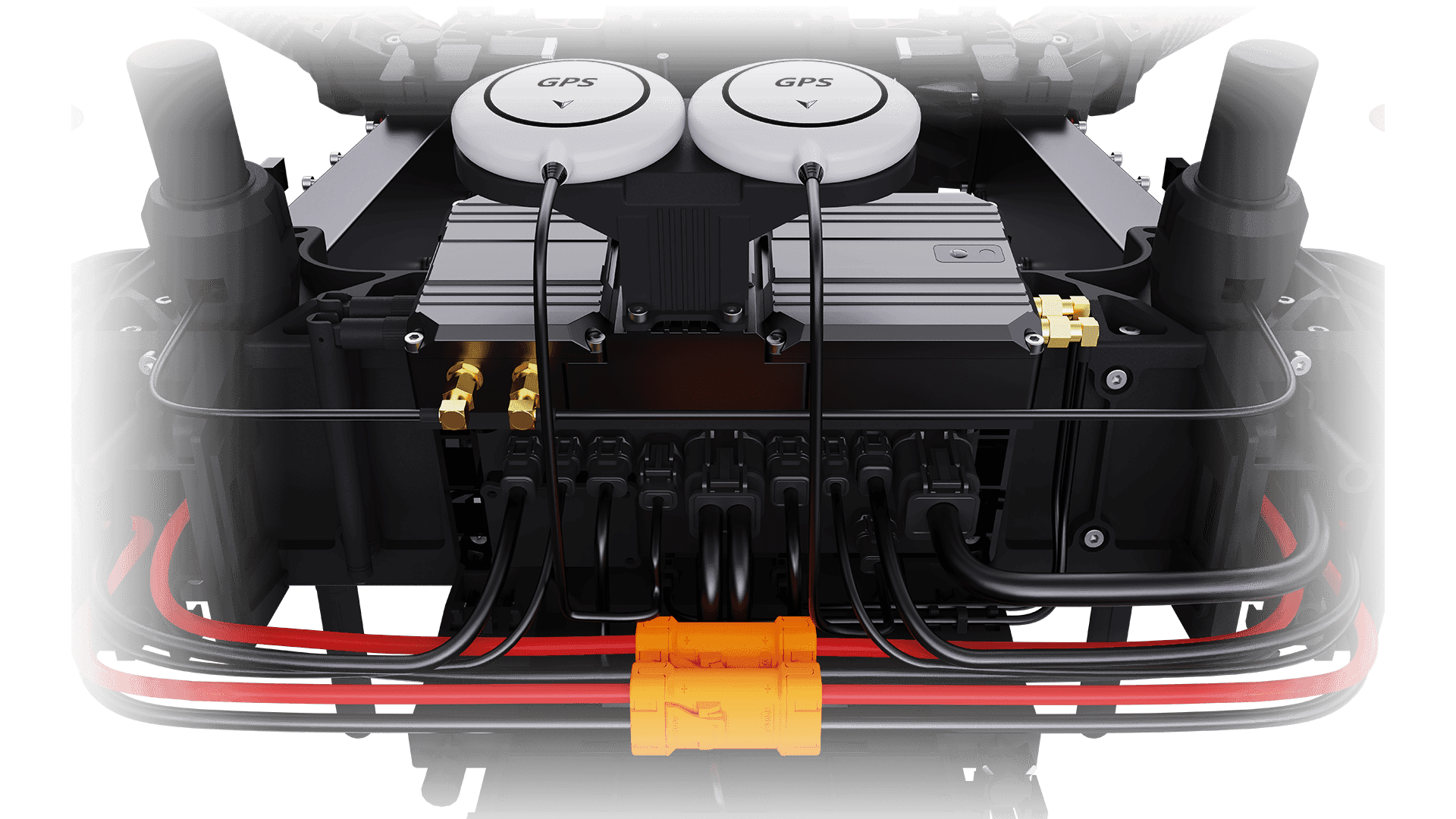 Grouping Modular Design
Separate modules of flight control, RTK module and receiver module. Plug-in connection, flexible configuration
Efficient Spraying for a Smooth Flow
The newly developed spraying system has two large-flow impeller pumps and an ultrasonic flowmeter, resulting in a smooth and continuous flow. The water-cooling ability of the centrifugal nozzle prolongs the aircraft's lifespan.
Precise Spreading
Smooth Spraying
The spreading and spraying systems can be interchanged quickly to meet the operational requirements of the respective scenarios. Large inlets enhance loading efficiency, and the bow-shaped landing gear avoids particle collision.
Dustproof and Waterproof
The entire UAV is waterproof from the inside out with an IP67 protection rating enabling it to cope in harsh working environments easily.
Common Structure
Convenient Maintenance
More than 95% of the parts are readily available making the replacement of spare parts more convenient while effectively reducing maintenance costs.
Offered Solutions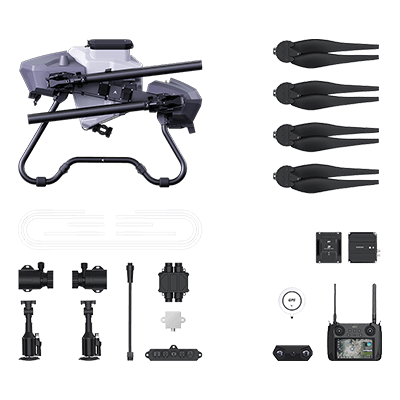 Basic Package
Drone frame x 1
Motor set x 4
Impeller pump x 2
Flow meter x 1
Level gauge x 1
Centrifugal nozzle x 2
Adapter board x 1
Pipes and fittings x 1
Flight control x 1
Receiver module x 1
Camera x 1
Remote control x 1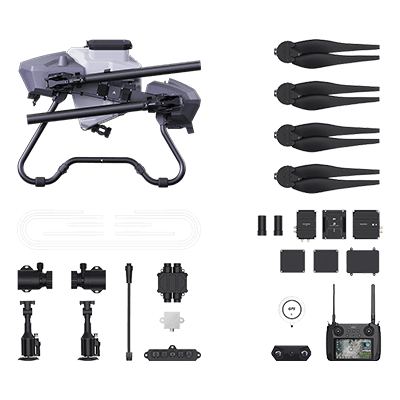 Standard Package
Drone frame x 1
Motor set x 4
Impeller pump x 2
Flow meter x 1
Level gauge x 1
Centrifugal nozzle x 2
Adapter board x 1
Pipes and fittings x 1
Flight control x 1
Receiver module x 1
RTK module x 1
Forward radar x 1
Front radar x 1
Altitude radar x 1
Camera x 1
Remote control x 1
Drone System
Unloaded Spraying drone weight (without batteries)
29.8kg
Unloaded Spraying drone weight (with batteries)
40kg
Unloaded Spreading drone weight (without battery)
30.5kg
Unloaded Spreading drone weight (with batteries)
40.7kg
Expand Size
Spraying drone:
2435*2541*752mm
Spreading drone:
2435*2541*774mm
Folded size
Spraying drone:
979*684*752mm
Spreading drone:
2979*684*774mm
No-load hovering time
17.5min(Tested by 14S 30000mAh)
Full load hovering time
7.5min(Tested by 14S 30000mAh)
Working temperature
0℃ - 40℃
Spraying System
Water Pump
Volt: 12-18S
Power: 30W*2
Max flow: 8L/min*2
Nozzle
Volt: 12-18S
Power: 500W*2
Atomized particle size: 50-500μm
Spreading System
Applicable granule
0.5-6mm dry solids
Flight Control
Working temperature
-10℃ - 60℃
RTK
Horizontal ±0.1m
Vertical ±0.1m
GPS
Horizontal ±1.5m
Vertical ±0.5m
Wind resistance level
Sustained wind: level 4
Gust: level 5
Remote Control
Control distance
3km (3m height without shelter)